There are many ways for students to gain experience and education at the Student Organic Farm (SOF) but being an undergraduate student crew member is by far the most meaningful. Student crew members get a practical and immersive farm education that involves them in the entire process from seeding, planting, and pruning to cultivating, harvesting, and marketing.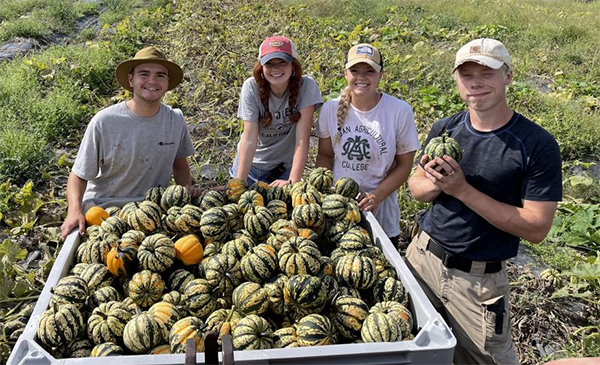 In the summer, crew members work full-time and manage various aspects of production, allowing them to take ownership in maintaining and improving the operation of a farm business. During fall and spring semesters, new crew members learn from veterans, and all crew members teach volunteers and service learners how to do a variety of farm tasks as the seasons change. Crew members also develop strong leadership skills conducting tours for MSU courses and for the public, coordinating volunteers, and teaching other student farmers the skills they have learned.​​​​
From Engineering to Horticulture to English to Arabic, our student crew comes from a range of disciplines, bringing wonderfully diverse perspectives to the farm and taking their farming experiences and greater understanding of the food system back to their various fields of study. Whether they become farmers or chefs, doctors or lawyers, business owners or teachers, students gain confidence and build career skills on the farm that last a lifetime.
Crew is full for 2023, check back Spring 2024
Questions regarding the position can be directed to Darby Anderson, SOF Manager, at msufarm@msu.edu.
"Working on the farm has given me a more holistic perspective on the delicate balance it takes to properly manage natural resources and the land. It taught me to take food more seriously and work on my relationship with other farmers." – Andrew Yonker 2019, Environmental Studies and Sustainability
"The SOF was full of learning opportunities to successfully run a farm, and I was always happy to learn more every day I worked there" –Lily Wallace, 2019, Horticulture Science
"Working at the farm has taught me a lot about the ins and outs of food production and has created new interests for me, as well as sharpening my problem solving skills. I found out that I enjoy smaller scale production and like seeing the start to finish procedures. When I graduate, I plan to open my own greenhouse business." Breanna Craig, 2020, Landscape Nursery Management
"Working at SOF has helped me grow professionally by giving me challenging tasks and agency to think critically and solve problems, and personally, giving me confidence and a community." Abigail Faber, 2022, Dietetics